Lutheran Church of Rwanda Hopes New Seminary Can Support Growing Faith
The ongoing construction of Rwanda's first Lutheran seminary is sparking excitement among church leaders, but with an important government deadline looming, that excitement has been coupled with anxiety.
In 2018 the government of Rwanda proposed a law that all ordained pastors, across denominations, must have the equivalent of a bachelor's or master's degree in theology or education to continue to serve their congregations.
That might not seem unusual in the United States, but in Rwanda—a central African nation about the size of Maryland but with double the inhabitants at nearly 13 million people—it's monumental.
Thousands of churches were shuttered four years ago as the government cracked down on faith-based organizations. Officials stated their concern over some churches' failure to comply with building safety standards but also over "some preachers suspected of growing rich off often impoverished followers," according to an Associated Press story.
Some churches reopened after complying with required safety standards. But religious leaders of all denominations still are scrambling to figure out how to meet the country's new education regulations, which will fully take effect next year.
Part of the pastoral emergency stems from the difference in how Rwandan churches are led, said Evalister Mugabo, bishop of the Lutheran Church of Rwanda (LCR).
Right now the LCR has 39 pastors, Mugabo said. But the church is led primarily by nonordained evangelists, many of whom have been trained at Rwanda's Bible school, Theological Education and Leadership Development (TELD).
As the bishop explained, TELD is only a stepping stone for those who want to become ordained. What Rwanda desperately needs, he said, is its own seminary. Now the LCR is in the process of building one.
"For Rwandan Lutheran evangelists, these new regulations are a surmounting challenge," Mugabo wrote in an email to Lutheran leaders around the globe. "It means traveling to study in other countries such as Tanzania. This is not only cost-prohibitive for nearly all evangelists, but it also entails the hardship of being away from their congregations, communities and families. Thus, we feel the Holy Spirit is calling us to establish [the Lutheran Theological and Leadership College]."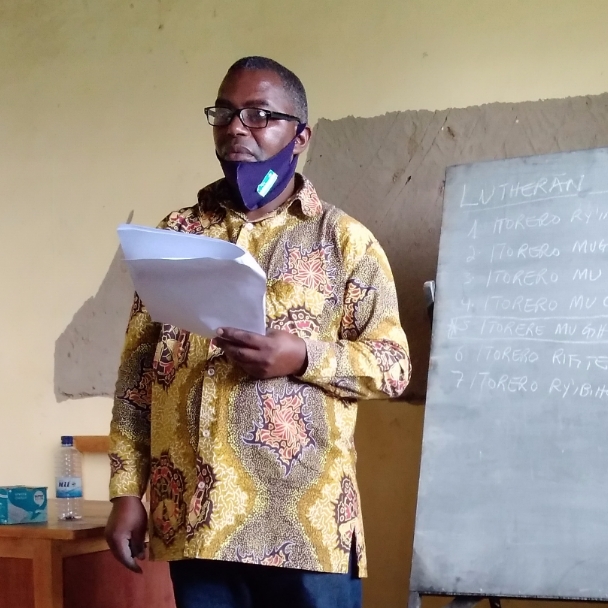 Growing Faith
The Lutheran Church of Rwanda was formed in 1995 by Rwandan refugees returning from Tanzania after the 100-day genocide against the Tutsi people the year prior.
The church has grown from its initial 200 members to 8,000 people spread throughout 60 congregations, most in "remote, poor, rural areas of the country," Mugabo said.
Our faith is growing," he said. "The Lutheran church is growing."
Almost from its inception, the LCR has known it needs evangelists to reach the entire country, said Ntidendereza David, a pastor and principal of TELD.
LCR opened TELD in 2003 with a two-week training program, but after two terms the school closed due to lack of funding, David said. It opened again in 2011 with a three-month program but closed again after a year, again because of insufficient funding.
In 2017 the ELCA agreed to support the Bible school financially, and TELD's leadership development program swelled. A three-year program toward a certificate in biblical studies was established that year, and in 2019 one graduate was able to enroll in the University of Iringa in Tanzania to pursue a bachelor's degree in theology. In December 2021 eight more students graduated from TELD with their certificates.
In the Rukira Parish, membership jumped from 469 to 753 members after evangelists who had received training at TELD came back to minister to the parish, said Ntidendereza David, a pastor and principal of TELD. Similarly, the Kirehe Parish saw its membership grow from 424 to 689 members after evangelists trained at the school.
Similarly, the Kirehe Parish saw its membership grow from 424 to 689 members after evangelists trained at the school.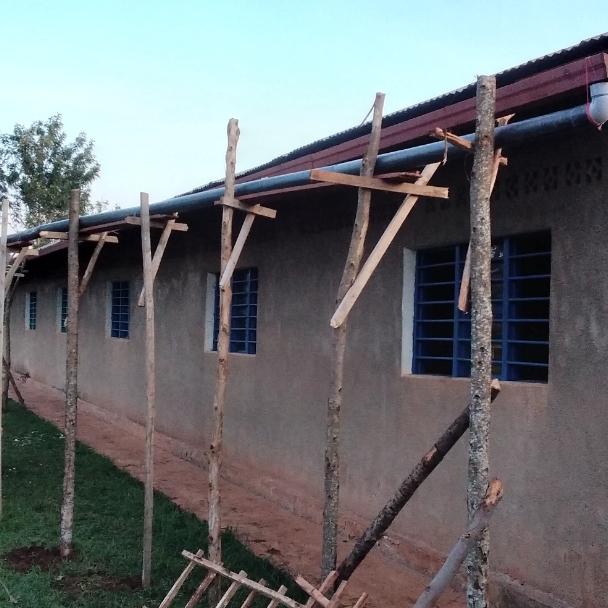 "These students—evangelists and the pastors who went through the Bible school to get trainings—they've been trained in Lutheran identity and Lutheran faith, so when they go back to their congregations, they are going to implement what they have been learning there," Mugabo said. "That's what helps the church grow."
Currently TELD has 26 students, ages 22 to 51, enrolled in its three-year program, David said. Nineteen are men; seven are women.
"[It is our] dream to continue the program, class by class, upgrading school curriculum, and to establish another program such as online or [a] distance-learning program," David said. "[We want] to help our students who graduated from our Bible school to further their studies and get at least a bachelor's degree."

Preparing for seminary
Growing TELD has been a primary goal of the church for years, yet word of the government's new regulations prompted the LCR to plan an expansion of its education system. Building and staffing a seminary is now of the utmost importance, said Mugabo.
"Seminary is different from Bible school," Mugabo said. "The Bible school is like an incubation center. We bring students in Bible school to be able to serve the congregations. From there, those who are willing and capable to go further, they can now go further to do their bachelor's. [But] it has cost a lot of money taking students outside of the country to Tanzania and Uganda [to seminaries there]. … We needed to have our own school within, training them. … The Lutheran Church of Rwanda is struggling to see how we can strengthen education and build a church that is strong."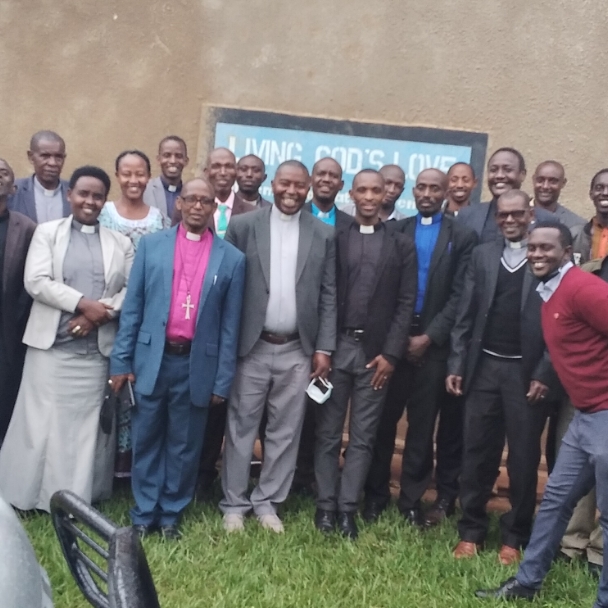 In October 2019 the church laid a commemoration stone on the land secured for the Lutheran Theological and Leadership College, Mugabo said. Soon afterward, an administration building was completed and the foundation of a four-story classroom building was laid. Through your Mission Support dollars, the ELCA shares in funding these projects."
The ELCA plans to continue its support of the Lutheran Church of Rwanda.
"LCR is a small but mighty church," said Daudi Msseemmaa, ELCA regional representative in East Africa. "As it grows, it needs more pastors and evangelists, and they need to have the skills to support the spiritual and emotional needs of congregations carrying the generational weight of violence, displacement and even reconciliation from their histories. As the ELCA, we come alongside LCR through support for their Bible school, seminary scholarships and other programs to help the church be at the center of community life. It's a perfect example of our emphasis on theological education aligning with theirs."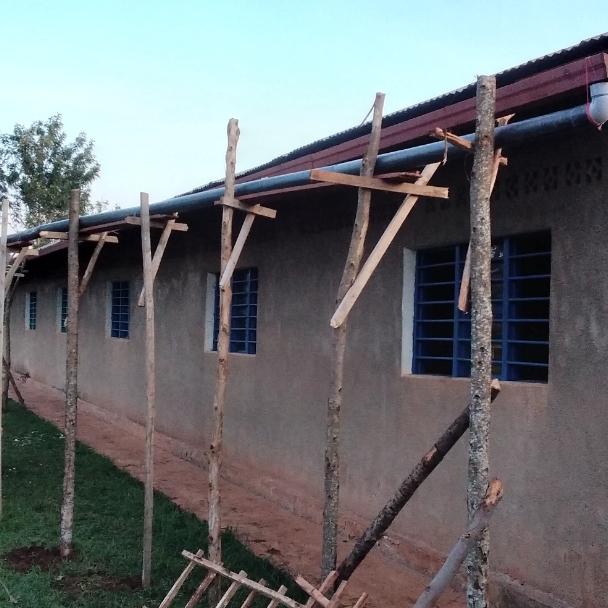 "The vision is to complete the classroom building, then build a dormitory building and, finally, two small homes for visiting professors," Mugabo wrote in his email. "The government regulation is to go into effect [in] 2023. We are prayerful that work can continue soon so that we can be prepared to train our evangelists in proper time."
Download PDF here
What can you do to help?
Donate books
The library at TELD is small, and the library at the Lutheran Theological and Leadership College needs to be built from the ground up.
Pray
Pray not only for the completion of Lutheran Theological and Leadership College but for students and staff at the Theological Education and Leadership Development Bible school.
Consider gifts
Donations are needed for classroom equipment, building progress and more.
Share their story
Let others know about the LCR and encourage the possibility of visiting professorships.